BUSINESS NEWS – Warm Waters has expanded "the deck" out back and also added a grassy area with walk paths. This weekend they are having DJ Hollywood Saturday night and The Pizazz Band on Sunday night before Memorial Day on Monday. There is a wedding on the lake on Monday afternoon and a reception on the patio around 5:00PM. Come out and enjoy the fun. Jeff tells me he plans to add an outside bar area with TVs, darts and other items for your enjoyment. It really looks nice!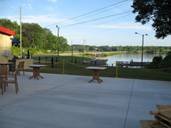 Carolina Solar broke ground this week on a solar cell installation on 501 south right at the Crown Blvd intersection across from Cambridge Hills. You will see the support post going in. There will be approx. 3400 solar panels generating 600KW DC or 500KW AC around September. This will be a draw to Person County as businesses, investors and sightseeing will increase due to this project.
Hyco Marina is ready for your Memorial Day weekend. Fresh local strawberries make great shakes and also check out their banana splits. Scoop ice cream will insure you get your favorite frozen treat. They also have a large selection of wines, beer and other beverages so make Hyco Marina your stop for all your needs. http://www.hycolake.com/HycoMarina/index.htm
Check out Roxboro Savings Bank online. They report they have plenty of money to lend whether for homes or business investment so there is no need to go out of town or shop anywhere else. Just call or go by and see the friendly people at Roxboro Savings Bank. (Click here for their web site)
Force Protection is gearing up with their training program so don't be surprised if you see the huge military MRAP vehicles in town stopping for a snack at McDonalds. Several employees are on site with more to come in the next few months so you will see a presence in this area with trainers locating here and trainees staying in the local motels entertaining and eating out. They aren't here just for Memorial Day – they are here to stay!
ENTERTAINMENT – The Flaming Star has Fast Lane this Saturday night – don't worry about the weather, it's always favorable in The Flaming Star! www.theflamingstar.com
Alive After 5 in Uptown Roxboro Thursday May 28th. Elvis isn't dead because he will be at Merritt Commons in Uptown Roxboro this Thursday. Keith Henderson, renowned Elvis impersonator will bring back all your favorite Elvis songs and he has the moves to boot! Family entertainment for the whole family. Bring your lawn chairs if you decide to sit during this event. Food and beverage on site. Presented by Roxboro Development Group and the Roxboro Area Chamber of Commerce. Event starts at 5:30. 50/50 raffle. FREE – FREE – FREE
Annual Joe Weinberger/Roxboro Area Chamber of Commerce Golf Tournament Friday May 29. Annual golf tournament is one of the favorite events for golfers and non-golfers! Lunch included starting at 11:00AM. Shotgun start at 12. Sponsorships available and team entries. Call or go by the Chamber at: 599-8333
WWII Veterans Memorial Dedication Saturday May 30 at the Person County Courthouse. A new monument dedicated to our WWII veterans will be unveiled on Saturday at 10:00AM. Be sure to attend this event and bring a veteran with you! The Roxboro Rotary Club and the citizens of Person County have donated towards this project that began with a "Ride of Honor" to visit the WWII memorial in Washington, DC. Now Person County will have our own WWII memorial dedicated to those who so bravely served our nation. A special gift will be presented to our WWII veterans in attendance.
First Annual Roxboro 2009 Shrimp Fest June 11th brought to you by the Roxboro Area Chamber of Commerce, Duke Energy, Pepsi-Cola Bottling and Trustworthy & Affordable Garbage. 2009 Shrimp Fest at the Old Bromma building on 501 south. All-you-can-eat shrimp, baked beans, cole slaw, soft drinks, beer, wine & open bar. Music by the Hip Pocket Band. Doors open 4:30, hospitality 4:30-8:00, serving 5:30-7:00, band 5:00-9:00. $35 per person. Call the chamber at: 336 599-8333. Must be 21. Tickets will go fast!
Wine tasting at Hyco Marina Friday June 12th. Sharon says Rock of Ages will be on hand for sampling and also orders by the bottle or case so come out and enjoy starting at 8:00PM. Put it on the calendar.
For more local entertainment and tourism events, visit the tourism site at: http://www.visitroxboronc.com/calendar/ue-calendar.asp
PERSONAL FAVORITE – From time to time I pass along some of my favorite things about living in the area. This week I want to let you know that Southern States here in Roxboro on North Main Street will fill your gas grill bottle for $9.99 for a 20# bottle. Just a couple of weeks ago, it was around $14 so grab those bottles because you'll be needing them this weekend and the rest of the summer. Check out their items inside the store also. Just tell the checkout clerk how many bottles you have to fill and she will ring you up before you go down to the fill take on the south end of the lot.
One reader asked about seeing some red and green colored fish that were on the bottom in a crater. Our resident expert fisherman reported that they are Blue Tilapia. They are vegetarian so do not bite lure. Good news is they do not eat other native fish so no harm, just keep the lake free from weeds...Weeds are a detriment to the operation of the power plant cooling system so the Blue Tilapia are beneficial to the lake.
ADVISORY – Be sure to shop local to keep our dollars working to support our local businesses. With the economic slowdown, it is important for us to spend our dollars with the locally owned stores. Market data reflects that money spent in locally owned stores gets returned 5-fold to the community where out of town owned stores result in a fraction return locally. Help keep your friends in a job, taxes low and services continued by shopping with local merchants. The job you save may be your own!
Census Bureau people have been observed walking up to homes with a GPS enabled device. These workers are verifying GPS coordinates for the census. They should have identification and a handout to explain what they are doing. Please don't turn the dogs loose on them!
Counterfeit Checks in the area – we have been advised by RPD to watch out for counterfeit checks from Wiremax Electrical Services written on bank checks from Metabank in Durham. If you see any of these, contact the RPD at 599-8345
Some residents have reported things missing in their yards and homes and thought it would be good to offer tips of prevention. One tip I can offer is for you to attend the next Citizens Police Academy class. This is a very informative class and better prepares you for prevention of crime. There will be an announcement in the Courier of the next class and I'll alert you also. Thanks to Terri Reynolds for giving us a "heads up" on this class. If you want to know more, see Terri at www.westandwoodall.com as she just completed the class.
We're constantly adding new vendors and services to our database so if you need a service that has been recommended by a customer, check out the list. You can search for services at this link: Looking for Area Services – Click here. Also if you have favorable reports of services, let us know and we will add it to our recommended list.
CIVIC ITEMS – The Person County Museum of History is having a Town and Country Garden Tour Saturday May 30 from 1-6PM. Tickets $10 available at the museum on Main Street. Enter drawing for a two-tier fountain. See some of the most beautiful gardens in this area and get some ideas for your home. If roses are on your list, you'll be amazed at some of these homes as they have hundreds of varieties on display in natural settings. Also homes with rock and stone blended into the settings. Rain date May 31st. Visit these at your own pace and leisure between 1-6PM.
There are several local motorcycle benefit fund raiser events coming – A ride for Kelly Currin on May 30 - First Annual Ride for Kelby on June 6 and Fire Fighters Burned Children Fund Ride on June 13. All are motorcycle rides. Kelby is the son of Charlie Buck and Tammy Oakley. See more info and register at: www.personharley.com There are some regional events also on the calendar.
There was an article this past week in the Courier=Times about a couple on Hyco raising mealworms to feed to our Blue Birds. If you are like us and have many families of Blue Birds, then you might want to contact Jack Vanhoozier on Hyco Lake at 599-9935 to buy a few hundred mealworms for $8/1000. He sells them at cost because he has an over abundant supply. The Blue Birds love them and will swarm to eat the meal worms.
If you haven't gone out to the strawberry fields this week, you need to do so. The strawberries are coming in and only last a few weeks. We sampled the ones at Carver Brothers Farm on 501 North and they are goooood! Pick your own for $1.20/pound
If you are not a member of the Roxboro Rotary Club, then you are missing some great informative programs! This week we had an SBI agent show-and-tell about our state bomb squad. He had pipe bombs and other IEDs on display. Upcoming are programs including a heart transplant doctor and students from U.C. Berkeley making presentations and taking questions about Person County. You are invited to attend any meeting by just contacting a member of the club and joining us for lunch on Thursdays at 10 noon at Palace Pointe. See our member list at this link: http://www.roxbororotaryclub.org/memberv5.htm You have to eat lunch somewhere so why not make it a very informative lunch with friends and neighbors working hard to make Roxboro and Person County better!
ADVERTISER HIGHLIGHT – Each newsletter, we highlight a paid advertiser on the www.hycolake.com website. If it were not for these paid advertisements, the site would not be dynamic as it is and provide local information for Hyco Lake and Person County. Please support the advertisers!
Country Gun Works is a local company that performs gun repair and restoration including antiques. Give them a call or see their web site at: http://www.countrygunworks.com/
LAKE LEVEL –You can always get real-time data on the www.hycolake.com web site from USGS or click here.
More news later . . . .
Tell your friends about this email newsletter and join by clicking this link: Join our newsletter We keep all the past newsletters at this link: http://www.hycolake.com/Newsletters.htm
www.HycoLake.com is the most active web site in Person County with over 100,000 hits per month. If you would like to join us as an advertiser, look over our rates – lowest bang for your advertising buck around! See more info at: http://www.hycolake.com/AdvertisingRates.htm